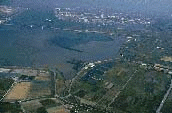 birds-eyes view(30KB)
Shiokawa Tidalflat
---
Introduction
Shiokawa tidalflat is one of the representative waders-watching sites in JAPAN. Land area is about 280ha and it is surrounded by wet field(rice field), dry field(cabbage field),pond (not-using fishing pond), marsh field(not-using industrial area). Various habitats support many kinds of birds.So far 250 species have been recorded in this area.
Shiokawa tidalflat is located in MIKAWA bay. That bay has been reclaimed for industrial development since 60s. In decreasing natural coast, Shiokawa tidalflat was remained accidentally. And now,it is one of the most important site for waders, not only in MIKAWA bay but also in JAPAN We are glad that you see apart of Shiokawa tidallflat and be interested in this site by this page.
---
Location and Access
Shiokawa-Tidalflat is in TOYOHASHI city and TAHARA town ,AICHI prefecture(about Centre of JAPAN).
We will show you two ways to access from TOKYO.

---
1 Using public traffic-system [KODAMA super express and bus]
TOKYO station@
-----
TOYOHASHI station
-----
YAGUMADAI bus stop
-----
Shiokawa tidallfllat
[KODAMA super express]
[TOYOTETSU bus]
[walking]
2 and half an hour
40 minutes
10 minutes
[REMARKS]
KODAMA super express;

HIKARI and NOZOMI super express don't stop TOYOHASHI.


TOYOTETSU bus;

Express bus don't stop YAGUMADAI bus stop.

Bus stop is in front of the east exit of TOYOHASHI station.


Waking;

Leave the bus stop, back the road(route 259) to TOYOHASHI direction and turn to north the cross ,where is furniture shop named SANWA-KAGU.
---
2 Using automobile
TOKYO
-----
TOYOKAWA I.C
-----
TOYOHASHI city
-----
Shiokawa tidalflat
[TOMEI expressway]
[Route 151]
[Route 259]
300km
8km
15km
bound for NAGOYA
bound for TOYOHASHI
bound for IRAGO
---
MAPFTOYOHASHI city and TAHARA-CHO(77KB)
---
Go to Homepage
---
Shiokawa Tidalflat Preservation Association
Please send your comment to (eriko@tcp-ip.or.jp)